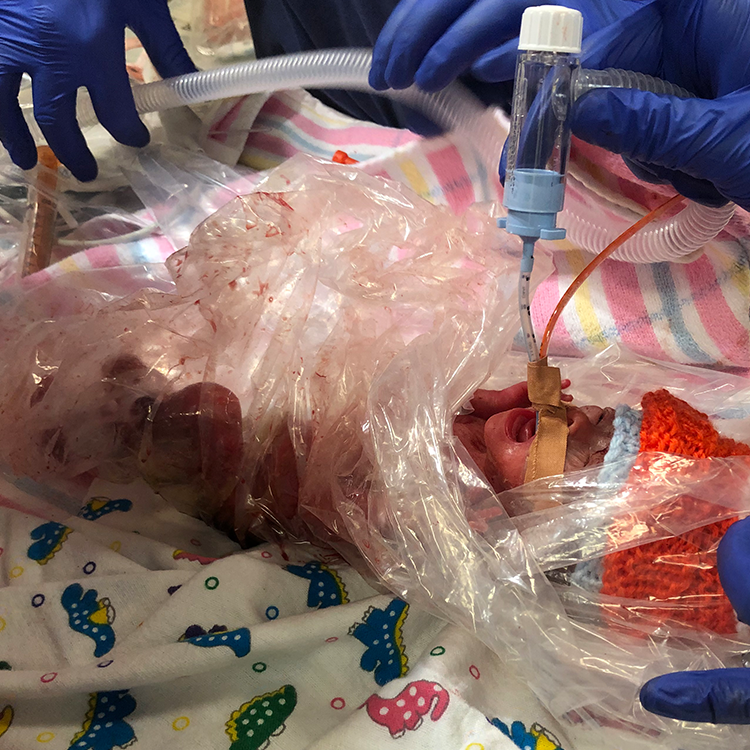 Miracle Mum, Charm explains how she had to fight for her daughter's life and maintain hope when it felt like all hope was gone. She shares the story of baby Chesil's strength in the face of such adversity.
"I have reservations about sharing my story because I've told it many times and I'm trying to put the past behind me. However, I know Chesil's story can be an inspiration to someone who might be in the same boat. Also, I hope her story may help some people to keep up the faith.
I was only 23 weeks when I was told my baby was only measuring at 370g and told my placenta was restricted, and, in this case, they thought I only had 2-3 weeks until delivery. I had an immediate meeting with the head neonatologist of the Neonatal Critical Care Unit (NCCU) and was given all the worst-case scenarios. But I chose to fight for my daughter's life - whatever it took. After that meeting, I went straight to my nurse manager and applied for maternity leave. The next four weeks before the delivery, I stuffed myself with loads and loads of food and restricted myself from moving too much even though I was not told to do any of it, in the hope that it could make things better for my baby. Who cares about getting fat? It's a life and death situation for me, and I was hoping that by doing this it would increase her birthweight.
At exactly 27 weeks, I was told it was D-day and had an emergency c-section. In four weeks, she had gained 200g and was born weighing 570g and 28.7cm long. I was so happy as they said it was rare for a baby to survive below 500g. Her first night was generally good. From conventional mechanical ventilator she was promoted to CPAP in 12 hours. However, after another 12 hours she deteriorated. She was put into NPPIV (Nasal intermittent positive pressure ventilation) and then I received a call saying she's working hard and needs to be reintubated. My heart sank and I didn't sleep at all that night. All night I was praying to help my little one and make me stronger. At the same time, I couldn't go down to NCCU by myself as it was still hard for me to move due to the operation. I had to wait for my husband and my sister in the morning to take me down to Chesil.
Each hour, my nightmare continued. I swear every-time I heard the phone ring I'd be shaking down to my bones with anxiety. I was told again, she was already on a high frequency mechanical ventilator and on 100% oxygen, with nitric oxide (to help expand her lungs more). But her saturation was down in the 50s. I was asked if I wanted to come and see her. Straight away I went down to NCCU with my husband and saw the monitor saying her saturation was on 23%. I was confused and anxious. After I washed my hands I went to her incubator, her nurse was trying to explain what was happening, but I did not listen at all. I just started howling and crying as I knew what was happening. I'm not sure why but I was shouting "Thank you, Jehovah God. Thank you." I guess my heart knew that we would not be forsaken. They immediately put up a barrier and asked me if I wanted to cuddle my baby. I said yes, and for the first time I cuddled my baby, while thinking it would also be the last time. She was so tiny, not even a ruler long, she was so fragile and her skin was shiny. I was just crying and howling while hugging my baby. I was asked if I wanted to call any relatives or a pastor from the church. I asked my husband to call my sister and my sister called my nephew and one of the elders from the Kingdom Hall. My husband and I made video phone calls to our relatives in the Philippines for them to see her.
Later on, after hours and hours of crying and saying our goodbyes, I looked into the monitor again and was surprised to see a 94% saturation (I'm not sure how long it had been like that). My husband and I took turns doing kangaroo cuddles. The head neonatologist came to us and passed on his condolences. I was shattered; my baby was still alive. He tried to convince us to extubate her as it was the best and kindest thing to do at that stage. It was a "No" for me. Never.
Then, on Friday morning her nurse was being a bit too strict. She didn't talk much except for telling me that I needed to put her back in the incubator because she was getting cold. I couldn't comprehend why this had to happen, why wouldn't she give us as much time with our daughter as possible instead of putting her back in the incubator? But we agreed. I had been told that this nurse was good, and the moment she took hold of Chesil to transfer her back into the incubator - I was very impressed. Usually it took 3 to 4 nurses helping each other to transfer her with all the tubes connected to her. But she did it all by herself, in a very meticulous way. I said to myself, she's really good. At midday the nurse looked at me and said "she is getting cold that's why the numbers are low. Look, she's only been here in the incubator for 10 mins and her oxygen is down to 90%. The nurse said don't touch her and keep her warm, she is deescalating because she is cold. I finally understood and said, "No! Keep her there!" I was slowly getting my hopes up again. Chesil was suddenly giving us 100% saturation all the time, until her oxygen supplement went down to 60%. Her nurse managed to wean her completely off nitric oxide before she finished her 12-hour shift. Jehovah used her to save my daughter's life and I am forever in debt of Sally who put a step forward and did something. You will always be my baby's hero.
That night, the fellow doctor talked to me. I said to him, I think she is getting better. He asked me who said that, is it the nurse or just me? I said, just me - I can see the numbers. He said "Well, I think the same". I was so relieved to hear it.
Saturday morning arrived and the doctor came to me to say they don't know what happened, whether she'd warmed up in the incubator or something else, but they'd continue to do the best care they could for her since she was now responding". I cried - I never imagined I would experience a miracle myself.
She totally proved everyone wrong. Lots of things happened in the NCCU that made me feel so over the top with everything. But I am proud that we fought for my daughter's life, and she fought for her own life too. After 99 days, she went home with an oxygen of 500mls and we were told it would be a long journey and she'll probably need it for a year. But she proved everyone wrong again. After 2 months and 3 weeks, she's totally OFF oxygen. Hitting all her milestones and never been sick so far.
With all these things that happened, I had only one prayer. "Jehovah, your will thy be done. But I will never stop asking for my daughter's life". Thank you to all the brothers and sisters who prayed and kept on praying for my daughter's life. Thank you for our friends, we could barely eat but you kept cooking food for us. Thank you for the prayers and moving the circuit to pray for Chesil. To my family, my papa, my brothers and sisters, you fought for my daughter's life as hard as I fought. I am so proud, happy and blessed to have you as my family who never gave up. Jehovah is a good God and he never failed to love me and my daughter.
Also, thanks to all the doctors, nurses of the NCCU. Chesil-Jade surely kept you on your toes. I think what you can get from her story is that, keep up the faith and miracles can happen."

Want to share your story too? We welcome every Miracle family story, no matter what stage of the journey you're at.
We encourage those wishing to share their story to submit it below: