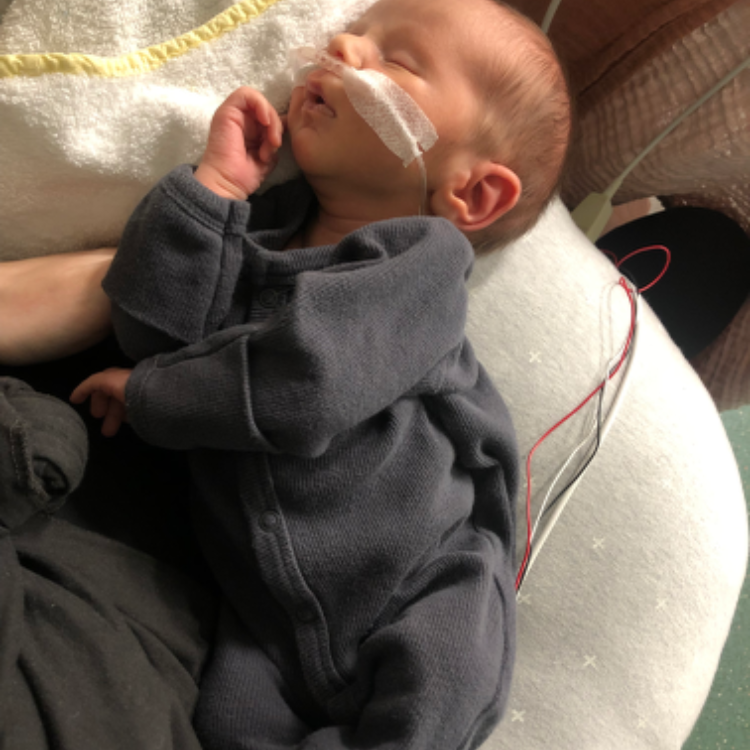 Miracle Dad, Dylan shares Lachlan's story.
"On Wednesday 25th August at 35 weeks pregnant Amy woke up with a weird chest pain and nausea. The pain increased in severity throughout the day and we visited Campbelltown Hospital that afternoon to investigate.
Unfortunately we were there for a very long time (over 13 hours) trying to determine the cause of Amy's discomfort. We were treated by multiple doctors until being sent home with the suggestion Amy was suffering from severe reflux. Amy knew her body and felt like it wasn't reflux, but we trusted the advice from professionals. We went to the chemist and picked up standard reflux treatments, but they were to no avail.

Amy's pain would continue over the next few days, fluctuating in intensity until it was again unbearable and we presented back to Campbelltown Emergency on Sunday 29th August at 11pm. Emergency were unimpressed by our return, this time sending us to Birthing Unit, who sent us back to Emergency to be checked over once more.
We waited back at Emergency as Amy received pain relief and we prepared to go back home. We were then transferred back to Birthing Unit upon chance investigation from Dr Maximus, who spotted Amy struggling to walk from the Emergency department.
Dr Maximus and Tiarne at Campbelltown Birthing Unit suggested something more sinister could be going on in the background, they inspected Amy's blood results from Wednesday and conducted more tests and quickly determined Amy was suffering from a severe case of HELLP Syndrome. Dr Maximus contacted Liverpool Hospital and explained that due to the severity of Amy's condition, it was best she be transferred there.

Lights and sirens later, Amy arrived at Liverpool. Tiarne was nice enough to come with us, and her calming presence was comforting the entire time. Liverpool Hospital quickly explained the severity of the situation and how critical it was that we acted quickly. By then, we were still trying to come to terms with the fact Amy was about to have our baby! The team at Liverpool were informative and supportive in the lead up to her Caesarean. Amy's platelets had dropped at this point to 20,000 and her Liver, Kidneys and the placenta were being drastically affected.

Amy's caesarean was a success and at 5:53am, our son Lachlan was born. Weighing 2.59kg and 49cm long, 5 weeks early. Amy remained in surgery until roughly 9am. It wasn't until 3pm we were reunited, and until 9:30pm did she meet her son.

Amy remained in hospital for 5 days in close care following Lachlan's birth. We were fortunate to have amazing care at Liverpool Birthing Unit the entire time. Amy's blood results and liver function were still of considerable concern as specialists visited and Amy received steroid injections. The specialists were always open, honest and communicated their concerns in easy to understand ways.
Following the surgery, Amy's platelets would not increase until Wednesday when they reached 47,000. An average adult should have above 150,000. By Wednesday Amy started to look and feel better. Her liver function would also improve.

Late Thursday evening, Amy was discharged from Hospital. Amy's platelets had exceeded 200,000. Lachlan remained at NICU until the 9th of September, when he was transferred to Campbelltown Hospital's Special Care. We expect Lachlan to be in hospital for another few days. He is doing well, just small and easily worn out.

We are looking forward to getting home and being together. Amy's recovery is doing great, we are still monitoring her bloods, wound and her liver function. Nothing we planned for in our pregnancy happened, but I am grateful to have a beautiful son and partner here today and we are grateful for the care we received along the way".
Dylan has also included information about HELLP Syndrome to help other families recognise the signs and symptoms.
HELLP Syndrome:

HELLP syndrome is a pregnancy complication that affects the blood and liver. It's a medical emergency that needs quick treatment. Signs and symptoms of HELLP include blurry vision, chest pain or pain in the upper right or middle part of the belly, swelling and throwing up.

People may also experience:
- Pain in the upper abdomen
- Gastrointestinal: nausea or vomiting
- Whole body: high blood pressure or malaise
- Also common: headache or swelling in extremities

Want to share your story too? We welcome every Miracle family story, no matter what stage of the journey you're at.
We encourage those wishing to share their story to submit it below: