Miracle Babies are excited to announce Megan Schutt and Jess Holyoake as Ambassadors for Miracle Babies Foundation. Megan is a professional cricketer playing for the Australian national team and Megan and Jess are proud new parents to baby Rylee.
In honour of their daughter, Rylee, who was born at 28 weeks and 6 days, Megan and Jess will kick off their partnership by participating in the Move for Miracles VIRTUAL CHALLENGE.
Megan and Jess have been long term advocates for LGBTQ+ rights. The day same-sex marriage was legalized, Megan announced her marriage to Jess via social media in 2019. In early 2021, they began their journey of adding to their family and welcomed Rylee via emergency c-section due to extreme intrauterine growth restriction, at 28 weeks gestation and weighing 858 grams.
Megan and Jess will walk 48,000 steps (36.5km) in 48 days to help raise awareness in the lead up to World Prematurity Day.
Join Megan and Jess! Register now
Not your thing? You can sponsor Megan and Jess's fundraiser here.
Rylee's story:
"Our journey began on the 13 February 2021; with the transfer of our embryo. Two weeks later we received the phone call we had dreamed about, we had a baby on the way!
For the next 6-8 weeks, it was all relatively straight forward. We decided to get the Harmony test and we found out we were having a little girl! At the same time, we were told that the test showed low PAPP-A, which didn't cause too much concern at the time.
Fast forward to the 20-week scan, Rylee was growing nicely but sat under the 20th percentile for weight. They then discovered that the umbilical cord was attached to the bottom of the placenta (rather than the centre). After this news, our scans became weekly.
Our 24-week scan showed complications with Rylee's growth – severe IUGR and in the less than one percentile.
The next few weeks were tense, with Jess in and out of hospital and constant monitoring. However, by this point, we were very happy to get to 28 weeks.
On the 17 August, Jess was hooked up to the CTG and there were spikes in Rylee's heartbeat. Given these results and not wanting to take any risks, it was decided that Rylee would be delivered that evening, via emergency C section.
Rylee was born at 10:09pm, at 28 weeks and 6 days, weighing 858 grams.
The following morning was surreal. To see our tiny baby girl, hooked up to so many machines was confronting, and not being able to hold Rylee was extremely hard.
Throughout our time in NICU and SCBU Rylee progressed every day, constantly surprising the doctors and nurses. We had small setbacks along the way, and every day was ridden with anxiety. However, we are extremely proud that Rylee fought as hard as she did and we are so lucky to have our beautiful and healthy baby home with us and thriving."
Every year in Australia, 48,000 babies are born requiring specialised care, 27,000 of these babies are premature and up to 1,000 babies will sadly lose their fight for life.
Thank you Megan and Jess for your support for Miracle Babies and we are so excited for you both to join us as Ambassadors, helping to raise much needed awareness around the challenges of having a baby born premature or sick.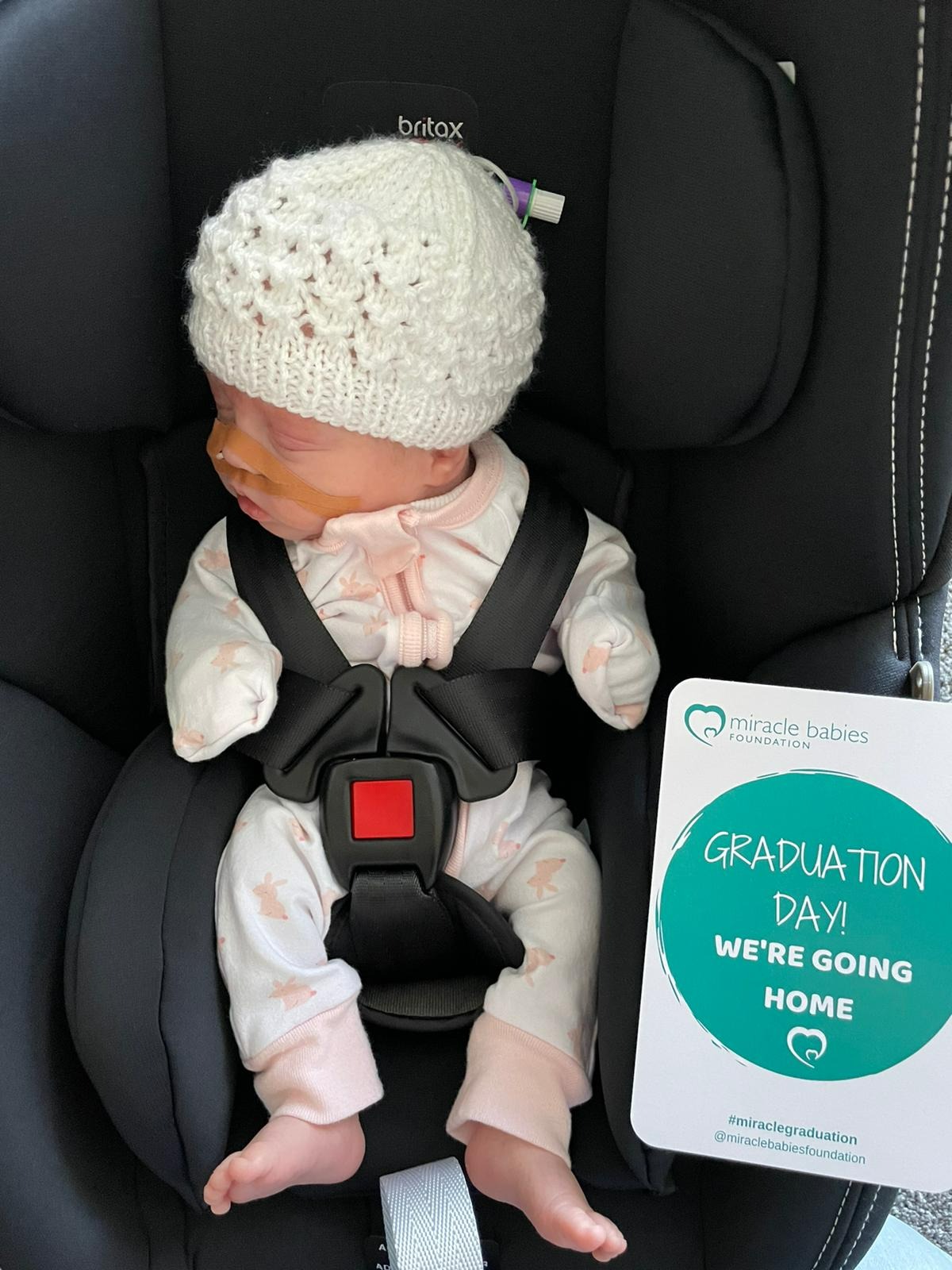 More about Move for Miracles VIRTUAL CHALLENGE:
Simply sign up and at your own pace, reach 48,000 steps (36.5km) in 48 days. Kicks off 30th September and finishes on 17th November, 2022 (World Prematurity Day).
Every step or kilometre that you walk, run or ride will help premature and sick newborns and their families reach their full potential.
Anybody can get involved. You can even create a team and do it with friends and family across the country (or world!). Get your friends, colleagues and family involved and help a miracle and their family access life-changing support.
Register and kickstart your fundraising today!
Money raised through Move for Miracles goes directly to supporting these families through our vital NurtureProgram and family resources.