In 2022, Miracle Babies Foundation entered into a partnership with meetmagic, becoming a grateful beneficiary of their innovative program to connect the business world for good. With the goal to raise $250M for charities by 2026, Miracle Babies Foundation is the newest charity joining the program, where business meetings result in vital support for families in need.
Raising more than $25,000 since the beginning of the year, Miracle Babies is thrilled to have meetmagic as its newest Corporate Partner.
Today, it's so important to stay connected, but as we get caught up in the day-to-day, meaningful conversations that make a real difference can often be few and far between.
Meet for Miracles gives senior and mid-level executives the opportunity to meet with leading businesses, keep connected, stay up-to-date with the latest technologies and trends, and share your wisdom and insights from your expansive experiences.
"Miracle Babies Foundation is proud to partner with meetmagic and we look forward to continuing to work together. The support of meetmagic has already helped 175 families access the vital NurtureProgram throughout the overwhelming and emotional experience of having a baby spend weeks or often months in the Neonatal Intensive Care Unit (NICU) or Special Care Nursery (SCN). Such a clever program connecting executives for business meetings that will expand networks and help to solve business problems, while making a real difference within the community. Well done Carl and meetmagic on a wonderful inititative." - Kylie Pussell, CEO, Miracle Babies Foundation
Are you an executive-level manager or business leader within an organisation of more than 50 employees?
Register to donate 45 minutes of your time and help 5 families.
For each meeting hosted, you are supporting your local community and making a difference to families of premature and sick newborns as well as expanding your network, benefiting your business and elevating your personal brand.
All you need to do is pledge your time. Every time one of your 45-minute Meet for Miracles meetings is booked by a vendor and takes place, a $700 donation is guaranteed to Miracle Babies Foundation, keeping our families supported and cared for as their vulnerable baby fights for life.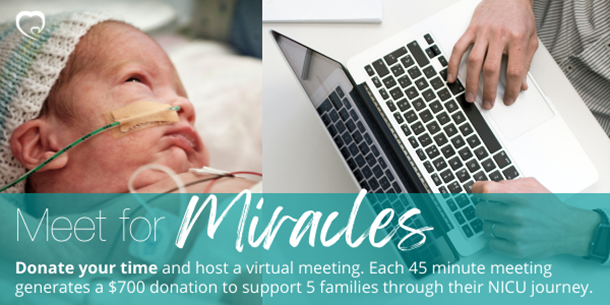 Matthias joined as a result of his personal experience, he shares the value that the meetmagic program delivered personally and for his business:
"The work that your organisation does is very close to my heart given we had 27 week premature twins. The care they received at Royal Women's was amazing and quite simply our twins owe their lives to the care team. One twin was particularly sick and we were told she had very little chance and we had her baptized that day. Both twins are now in year 12 doing brilliantly. Both twins will be heading to Uni with Oscar likely to study business or Commerce and Josephine has a passion for nursing and so is likely to study in that field.
The meeting experience offers an opportunity to meet with and listen to some service providers that you normally wouldn't free up time to see. That gives access to information and ideas that you would not have had but for these meetings.
Thanks and keep up the great work."
– Matthias Fuchs – Chief Procurement Officer, Boral