Miracle Mum, Kelly went through a stressful and unexpected journey with her second son Kyron, born at 36 weeks and gravely ill. She shares her story and the inspiration behind her new business 'Kyron and Co Collective', and how she has decided to give back to the Miracle Babies Foundation.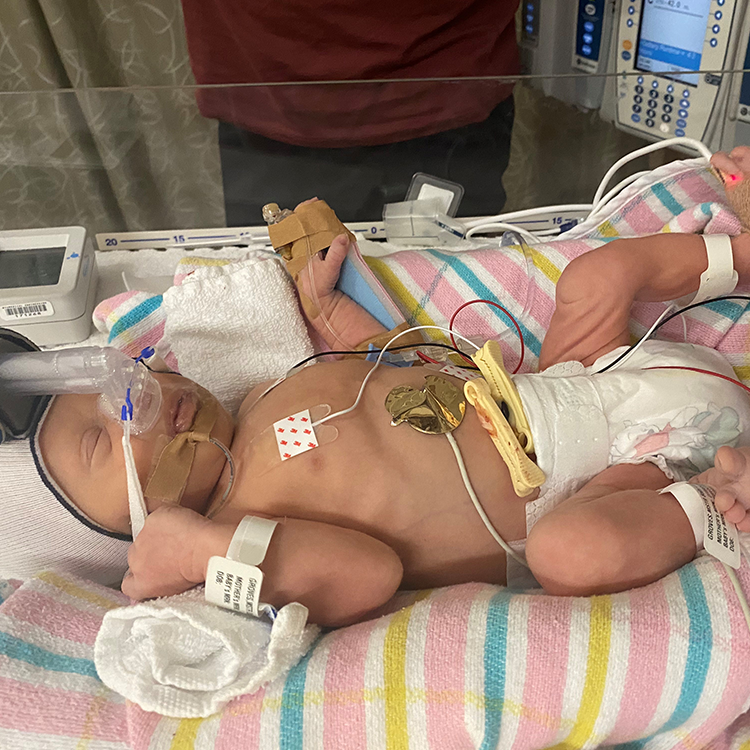 "Throughout my entire pregnancy, I was pretty cruisy. I took the entire journey day by day and rolled with the punches that happened, such as morning sickness almost every day (all day), the general aches and pains and standard fatigue. Overall, my pregnancy was low risk, pretty standard and I had no issues. Our little man was extremely active throughout the entire pregnancy so, when I noticed just before I hit 36 weeks that he wasn't moving as much, I had a gut feeling something wasn't right. My maternal instincts kicked in.
I went to the hospital mid-morning, around 10am just to have a check up and to out my mind at ease. Surely it was nothing and Kyron was just getting ready to make his way out. I was still working at the time and not yet started my maternity leave, so I was sure I was going to be home at 12pm for a meeting; turns out Kyron had other plans. My fiancé flew through the door as I was being wheeled into surgery, everything happened very quickly from then on in. Kyron was born at 12.35pm at 36 weeks gestation, weighing a tiny 2.5kg and measuring just 49cm long. Everything was perfect. He was perfect! Our family was complete.
Being premature, Kyron was taken to Special Care to monitor his breathing but everything else seemed normal. However, just three hours later, Kyron urinated blood and doctors and nurses swarmed to his bedside. Within a few hours, my precious new baby was being whisked away by the country's best specialists and the NETS team to get him the care he needed so urgently. My fiancé followed closely in tow of the ambulance in the early hours of the morning to be by Kyron's side, all while I stayed at our birthing hospital at Wollongong Private to process the last 24 hours and try and come to terms that my little man was extremely sick. It's something you really just never think will happen to you as a mum.
It was upon arrival at Randwick Hospital for Women, that Kyron was diagnosed with an uncommon neonatal kidney disease called Neonatal Renal Vein Thrombosis. If being pregnant during a pandemic wasn't scary enough, giving birth to a little human that required the country's best renal care was most probably the most confronting and scariest thing I have ever had to endure. No parent should ever have to go through that pain and uncertainty; not to mention the heartache of seeing your new little human very unwell.
Due to COVID-19, being by our baby's side became an extremely unconventional day to day routine of tag teaming with my partner in and out of the NICU. Not only that, but he was also driving back and forth to the hospital every day so he could balance the busy life of our 8-year-old at home, having to explain to him why he couldn't meet his baby brother, support me and also be there for our baby. It was extremely hard as a new and first time mum to go through that experience, however my heart really went out to parents who had had their babies in the NICU much longer than us. It was the longest three weeks of our lives but I am forever grateful for the medical team who cared for our little man. Miracle Babies Foundation impacted us greatly while Kyron was growing and gaining strength and we are truly grateful for everything.
Fast track to today, Kyron is now thriving at seven months old and is the final edition to our beautiful family. His older brother Peirce is absolutely besotted by Kyron and they are already the best of friends, a bond that is truly heart-warming.

This whole experience is what has inspired me to create my business - to not only can I spend more time with both of our boys, but I can watch our baby grow up and never miss a thing because quite frankly, we almost missed it all.
Kyron and Co Collective is something that is very close our hearts. Inspired by our littlest, curated with the help of our biggest, Kyron and Co Collective is our little something created so we can give back to Miracle Babies Foundation by donating 5% of every sale to the foundation. We truly just want to give back to a team that provided so much information and strength to our family in a time when we needed it most."
For more information about Kyron and Co Collective, visit: kyronandcocollective.com