Enjoy a 2.5 hour night walk around Sydney's beautiful harbourside in honour of the 48,000+ babies born premature or sick each year.
Every year in Australia more than 48,000 newborn babies require the help of a Neonatal Intensive Care Unit (NICU) or Special Care Nursery (SCN). 27,000 of these babies are born premature and up to 1,000 babies lose their fight for life. The experience of having a baby born premature or critically ill can be traumatic and life changing. The right support is vital to ensure a healthy long-term outcome for the entire family.
The annual Miracle Moon Walk event is on Saturday 26th March 2022. This special night aims to raise important funds for the work of Miracle Babies Foundation, Australia's leading organisation supporting premature and sick newborns, their families and the hospitals that care for them.
The 2.5 hour course, that starts and finishes at the event hub in the heart of the city at Martin Place, takes in Sydney's most iconic city and harbourfront locations such as Circular Quay, the Opera House, and Barangaroo, PLUS for the first time ever, the route will venture up to stunning Observatory Hill to take in the city under the stars from the highest point.
This year, there will also be plenty of opportunities for photos and fun as the walker's visit each of the NEW surprise stations along the route.
Expect there to be lots of laughter, a few tears, and most importantly the incredible feeling of doing something meaningful for another family – while having a lot of fun along the way.
"The Miracle Moon Walk is a time for the community to come together as one and journey under the stars for an amazing cause. The night is lit up with the smiles of people from all walks of life who are honouring the miracles still with us and the ones who've passed. The walk is an inspiring and moving experience for everyone." Kylie Pussell, CEO & Co-Founder, Miracle Babies Foundation
Money raised goes toward Miracle Babies vital support services for families, which includes emotional support via the 24-Hour helpline (NurtureLine), face-to-face support services during their hospital stay (NurtureTime), and free play and support groups after they leave the hospital (NurtureGroup).
Miracle Babies also provide emergency care packs, NICU Survival Packs (which include the NurtureGuide Book to help families through their NICU experience and beyond), Memory Boxes for families mourning the death of their baby, along with donations of clothing and items for premature and sick babies.
Team 'Pickles Chan' supporting families just like their own.
Dad, Elijah shares baby Noah's story and the reason why they are participating in the 2022 Miracle Moon Walk:
"Our Team "Pickles Chan" is named after the great Rugrats Character Tommy Pickles, who was also a premature baby that spent time in the NICU. My family and I are taking part in the Miracle Moon Walk to raise important funds and awareness for a foundation that supported our son, Noah Stephen Chan, and my wife Franca and I during the first few weeks of parenthood.
Our story started quite early on in the pregnancy, from 20 weeks Noah was measuring very small and we were required to visit the hospital two to three times a week for scans until he was born at 34 weeks. When Noah arrived, he weighed 1.68kgs, we were told about 1 in 4000 babies were born his size, he wasn't even close to being on a measurement chart and looking back now his size was quite surreal. After a couple of days in the NICU we learnt Noah would be running his own race though at the same time felt very blessed that he was doing okay as the NICU is quite a confronting environment for all parents, especially first time. During the five weeks we spent in the NICU and SCN we utilised the Miracle Babies Foundation 24-Hour helpline, face-to-face support services during our stay and I didn't even realise at the time but the NICU Survival Packs were also provided by Miracle Babies.
The birth of a child should be a special and enjoyable experience for all families, though this isn't always the case. Foundations such as Miracle Babies and nurses within the hospital go above and beyond to allowing parents like myself to see the joy during a tough time. I learnt so much from these amazing people and organisations.
Over the past 6 months we have lived by the motto "from little things big things grow" Noah is now thriving and the joy of our life!" – Miracle Dad, Elijah
Parra Leagues Club, is encouraging their local community to join them!
As a supporter of Miracle Babies Foundation, Parra Leagues are recruiting their own club members, encouraging them to register with the Parra Leagues team, to bring the Parramatta community together in support of a worthy cause.
Chris Dimou, appointed CEO of Parra Leagues in 2021, was the Top Fundraising Individual (fundraising as part of the Parra Leagues team) for the 2021 event. Chris Dimou and the Parra Leagues team raised a huge $5,938.
Once again in 2022, Chris Dimou (CEO, Parra Leagues), is driving fundraising efforts to raise much needed funds to support premature and sick newborns. Support the Parra Leagues team here.
Or, if you are a Parra Leagues member, register and join their team. Find out more.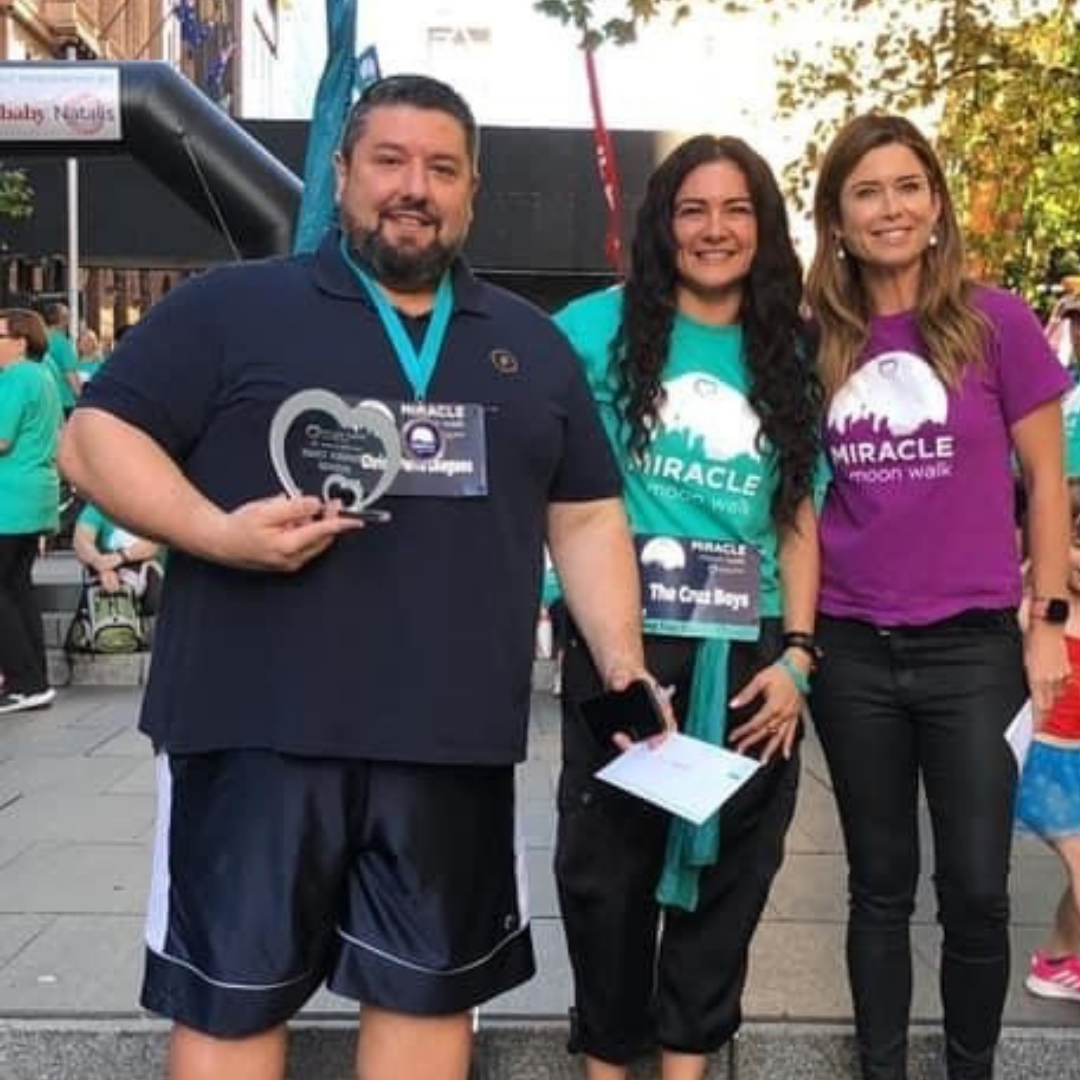 Help us support more families like Noah's and be part of the 2022 Miracle Moon Walk. The $65 registration fee includes entry, an exclusive Miracle Moon Walk T-Shirt and a Walk Pack (containing route map, glow fun and goodies), entertainment after the walk, FREE printed photos from their journey and a keepsake on crossing the finish line.
Children under 12 are FREE.
Best dressed competition for the kids, plus FREE face painting at the hub before the walk too!
KEY DATES & DETAILS
WHEN: Saturday 26th March, starting at 6pm (registration hub open from 4pm)
WHERE: Martin Place, Sydney CBD
VISIT www.miraclemoonwalk.com.au
FOLLOW & SHARE @miraclemoonwalk #MIRACLEMOONWALK