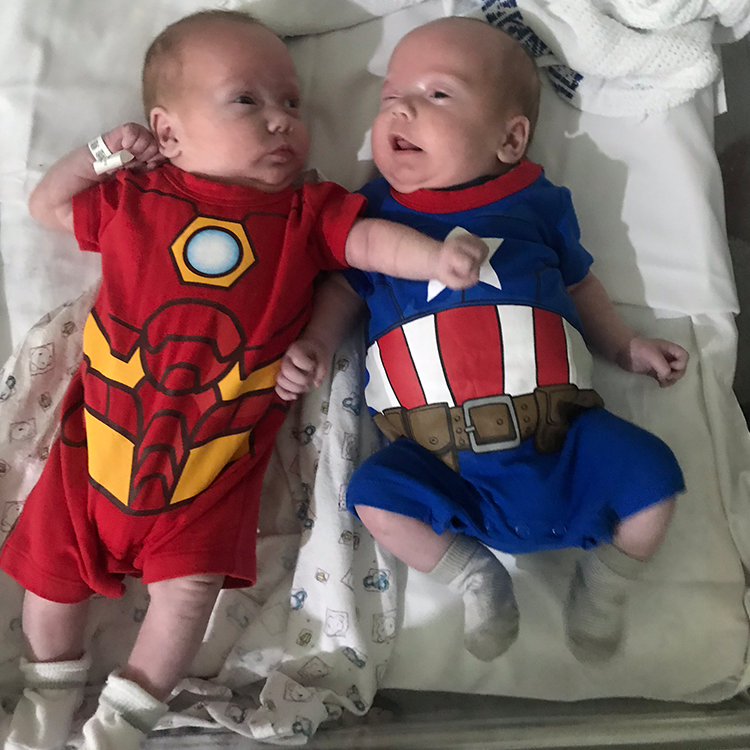 Miracle Mum, Maria was elated to be pregnant with twins after a 10 year long IVF journey. However, things went downhill when she developed a sepsis infection at 29 weeks. She shares the story of Samuel and Jaxon's arrival.
"Our journey has been long but rewarding. After 10 years of IVF, ovulation induction, tests, surgeries, and miscarriages, on the 2nd March 2019 our lives changed forever. This was our 'give it our last shot' cycle and it worked! God heard our prayers and gave us the best gift anyone who has been struggling with infertility could get.
Those two bright lines that could light up a room. We couldn't believe it, we were pregnant. After the excitement left, the fear set in…Would this cycle have a good outcome? Would we get past 12 weeks? Would we finally get to take a baby home?
After the initial HCG test came back with higher then normal numbers we were told we could have our dates wrong or be having multiples. I knew my dates were correct as I had been tracking every step of the way. Could it be twins? Surely, we couldn't be blessed with two? Turns out our first scan at 6 weeks showed not one beating heartbeat but two!!! We were in disbelief, emotions like never before and excitement for what is to come…and then once again worry. Worry for what might happen as we were told our two babies were MCDA twins (identical) which came with a whole new set of worries.
We were referred to our local hospital where we were told the ins and outs of MCDA twins, what it meant for us and for our babies. Scans every 2 weeks with a maternal fetal medicine specialist, consultant obstetrician appointments, dietitians, physios and more. What a whirlwind, finally we were at 12 weeks and our babies were perfect! We couldn't believe our luck. Then at 15 weeks I began to bleed and was sent to emergency via ambulance. We feared the worst, that's all we knew. Could it be over before it even began? It was when we saw our babies on the screen that we realised they were both fighters, they were 'happy as Larry' and to this day we are still unsure of where all the blood came from.
As our pregnancy progressed, we were on cloud 9, getting to see our babies every two weeks was the best! Watching them grow, wiggle and wave, we were the happiest couple in the world. Our 20 weeks morphology scan was the best day ever. It was when we discovered we were expecting 2 boys! Nothing could take away the smiles on our faces. We began buying a few little boys things in the excitement of it all.
At 23 weeks, once again I was rushed to emergency due to mucus plug loss, however our boys were happy and healthy. How could we be so lucky? It was like a dream. At 28 weeks during a routine obstetrician appointment I wasn't feeling the best. I had been having headaches for about a week, fevers on and off, and just feeling generally unwell. The babies were good, blood pressure was fine so all seemed ok. By Sunday I was unable to move, experiencing fevers, headache, vomiting and barely able to keep my eyes open. It was time to call the local hospital I was booked to deliver in. They immediately told me to come in. I was admitted straight away and was told my cervix was closed but short and I was going into preterm labour.
At 29 weeks! I was worried, what did this mean? Were we going to be ok? It was all a blur and after 24 hours I was being transferred via ambulance and midwife escort to a specialist hospital that could safely deliver babies of early gestation. After being transferred and admitted to the new hospital things went downhill fast. At 29+2 weeks, suddenly my legs began shaking - I couldn't stop them, a fever broke out, I was tachycardic, and was going in and out of consciousness. I can barely remember what was happening.
That night everyone was worried, I recall having many doctors and nurses doing tests, taking blood and placing me on antibiotics. Little did we know at the time, that these decisions saved my life and the life of our babies. I was watched like a hawk all night and the boys were very closely monitored. I was given the first of two steroid shots to assist the lung development of our babies just in case they were to come early.
The next day I felt much better, but then in the afternoon another fever broke out, and then the next day another. At this point I was given the second steroid injection and at 29+4 weeks, it was discovered I had a sepsis infection. The antibiotics were working, however due to not being able to make it through 24 hours without a fever I had to be closely monitored and a decision had to be made.
At 29+5 weeks, my team of doctors decided that we needed to deliver. The infection wasn't going away and the babies could become infected. Once the decision was made all action was taken. We were taken down to the birth suite and I was given a 4 hour magnesium infusion to assist in the brain development of the babies. We were met by doctor after doctor assisting us in making the best decision we could for myself and our boys. I had no plan of delivery and at this point I had no energy to be having an induction and having a natural birth, so a C-section was booked.
At 6:05 and 6:07 on August 30th we welcomed our perfect baby boys into the world. We were parents, our dreams had come true. It was the most joyful day of our entire lives. Due to the boys being born early the journey was far from over. The boys were sent to the NICU where they spent the first 6 weeks of their life.
The boys did so well and we are so very grateful to the team of amazing people who kept and continue to keep our babies well and growing. Life as a NICU Mum and Dad is by far the hardest experience but the most joyful, as now we get to treasure our beautiful miracles forever.
The boys are now weeks away from their second birthday. They are cheeky yet kind, daring yet gentle. Apart from a speech delay they live perfectly normal lives thanks to Mater mothers Brisbane. We owe our lives to them.
The boys love food, playing at the park and family, and they now have a little baby brother Dominic. Although we are now a family of four, single parenting is hard it is by far so rewarding.
Special thanks again to the Mater Mothers Hospital Brisbane for their professionalism, care and ongoing support. Without this I don't know how we would have coped."
Thank you, Maria for sharing your story.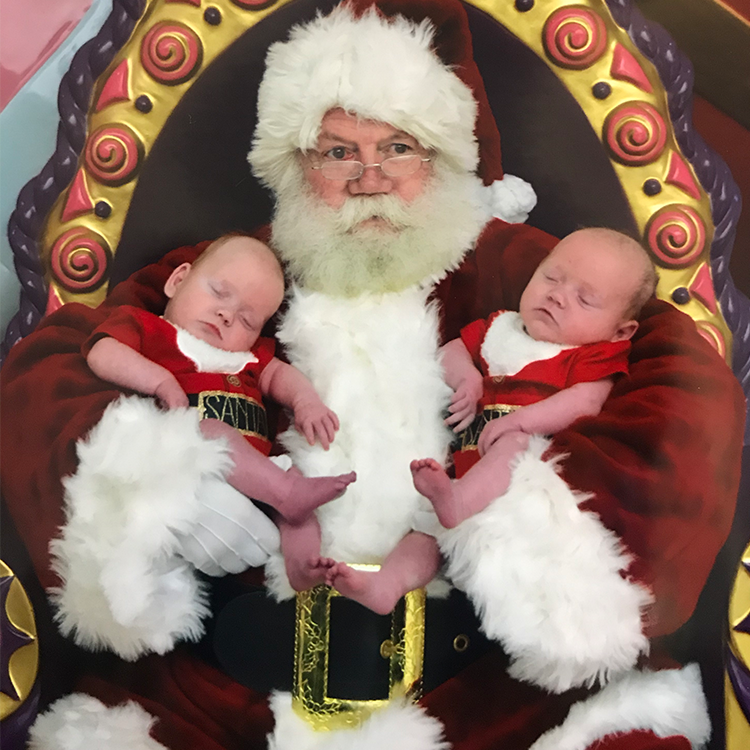 Want to share your story too? We welcome every Miracle family story, no matter what stage of the journey you're at.
We encourage those wishing to share their story to submit it below: