Tax Time is fast approaching, it costs $143 to provide support to just one family through their hospital journey, and $715 to continue this support during the first year after leaving the hospital with our NurtureProgram.
In 2021 The Impact Institute conducted an independent study into the benefits of peer support programs, just like the Miracle Babies Foundation NurtureProgram. The results solidified the need for programs like this within hospitals and within the community for vulnerable groups.
Our support services and resources are provided FREE to families nationally, offering emotional support and connection, from a threatened pregnancy, throughout their hospital stay and for years beyond.
With more than 132 babies born requiring specialised care each day, we need your help. Please join us in our Mission to achieve 'better, healthier outcomes for more families challenged by prematurity or sickness'.
Parents to premature twins Harriette and Charlotte, Ben and Laura Jacka, sat down with us to discuss how prematurity affected their family.
Keep reading to find out how prematurity affected not just the twins, but their whole family unit.
Tell us a little about your family
We have been together for 14 years meeting in high school and got married 7 years ago in 2016. The girls are our first children and it certainly shocked us when we found out it was twins. We both grew up in the country and love to visit as often as we can. We have one turtle named Slippery who is 8 years old.
Can you please share a little about your NICU experience?
We found out at 20 weeks I had Vasa Previa causing twin twos growth to slow down. From then on I had fortnightly scans to continue to monitor their growth. At 28 weeks I had developed pre eclampsia and as a result I had an emergency c-section just three days after I finding out I had pre eclampsia.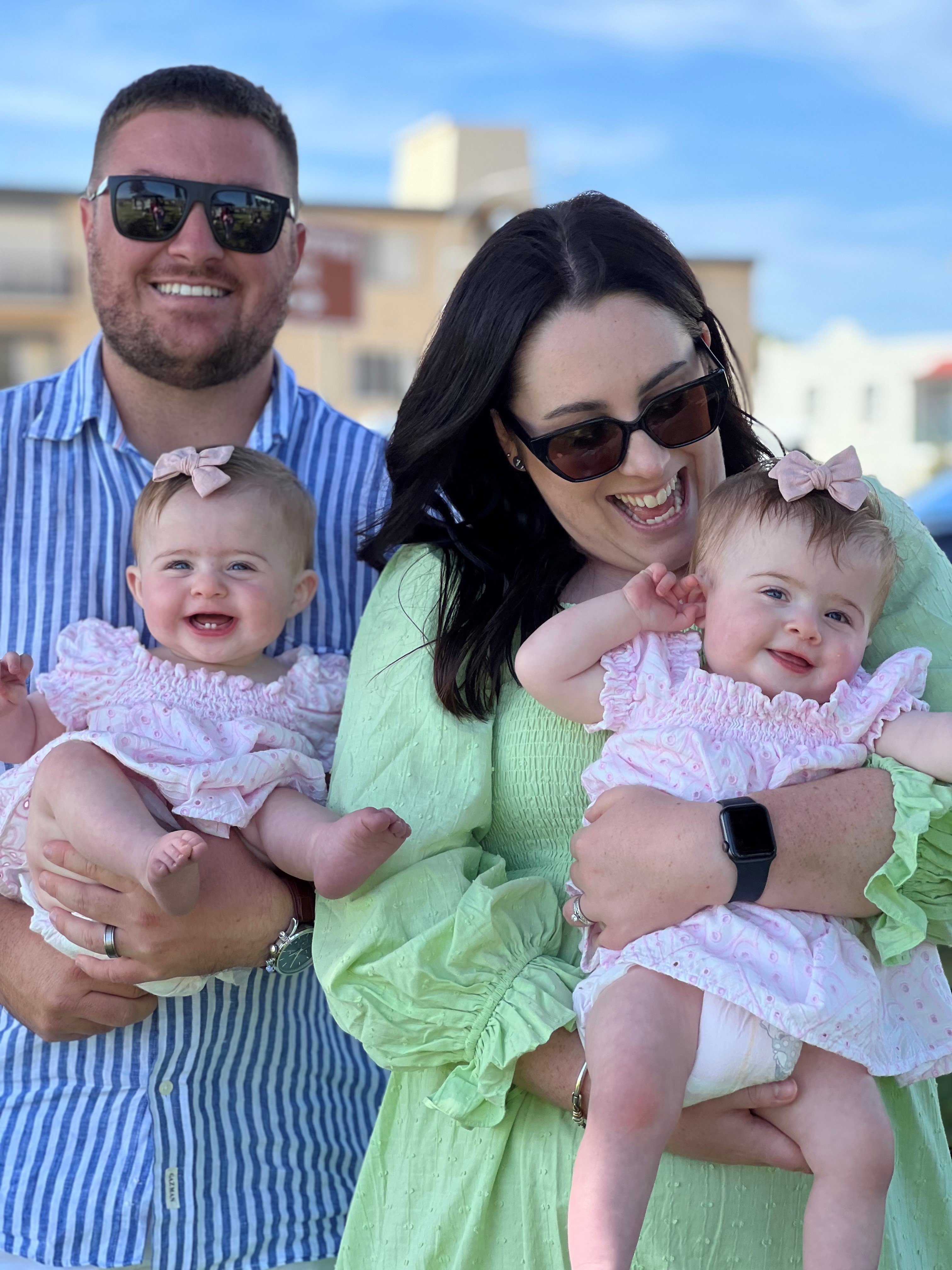 While Laura was being prepped for surgery, Ben was shown around the NICU before he went to be with Laura during the birth. He was given an idea of what it looked like and what to expect. Laura unfortunately didn't meet the girls until the next night when she was strong enough to be wheeled up in her wheelchair to see them. The experience was tough but having a supportive partner makes it easier. We were very fortunate to have amazing nurses the whole time and our NICU doctor was incredible. We couldn't have asked for a better doctor who we still see today for check-ups.
What did the girls overcome during their time in the NICU?
We were quite lucky with the girls. They had a few challenges, but thankfully they were all easy to overcome. The main one was low birth weight. Charlotte was born at 950g and Harriette was 720g. During their stay in the NICU, they girls had feeding tubes which then came home with us for a few days. They also spent a few weeks on OptiFlow to help with their breathing. Two weeks into our NICU stay, we both tested positive for COVID so we spent 14 days isolated from our girls only being able to see them via video chat on an iPad. This was the hardest part about our whole journey. Thankfully Ben tested positive first so was able to go visit the girls while Laura was still isolated. The girls had to be isolated from the other babies too in their own little room. They never had COVID which was amazing.
Having experienced the birth of your premature twins, what were a few of the best things and the toughest things of your family's experience?
The best things about having premature babies were meeting the girls 12 weeks early. Because of this they needed a lot of extra skin to skin contact with us both to help with the bonding. Developmentally wise they have never had any challenges. The girls have both hit all their milestones in between their two ages. With having such early babies and a long hospital stay, there are tough experiences too. The hardest thing was not being able to bring them home especially the first night once Laura was discharged from hospital. With any NICU journey there are also a lot of setbacks even with the healthiest babies. These are sometimes very hard to get by, but then you have wins and they outweigh the setbacks. The whole journey in NICU is unknown, this is extremely hard. Each day is a different day with different challenges, you must take each day as it comes. Our little girls were so small, meaning they were very vulnerable as well. Thankfully, nothing bad ever came from them being so small.
How did prematurity affect your relationship with each other as a couple and as new parents?
We are the strongest we have ever been as a couple and as parents. We talk about everything and make sure we are always on the same page about things. You must trust one another which thankfully we did before, however when you go through a journey like this together you learn to trust each other more. The love we have for each other and now for our little girls really makes this all worthwhile.
How did prematurity affect your wider family? (your parents, siblings, general family life)?
This was very tough. We have a very close family and for them to not be able to meet the girls until they were nearly 12 weeks old was incredibly hard. It is tough explaining to our families, friends and anyone who hasn't had a journey like this before, what it is like. Unfortunately, unless you have been in this situation, others don't understand how tough and stressful it is. Our little girls were so small and explaining that to anyone was hard. We used dolls and teddy bears to give an idea of the size of them. Same with having to explain they are hooked up to monitors which beep at you all the time and the extra care needed to look after premature babies.
Did Miracle Babies Foundation support you during your NICU experience?

We hadn't heard about the Miracle Babies Foundation until our hospital stay. They provided information to all the parents in the NICU and lots of gift packs which were a lovely surprise when you are going through such a rough and stressful time.
What words of encouragement do you have for Parents who have a baby in the NICU?
Stay strong and remember it's not forever. Be there for each other and ask for help from your support network. It's tough. Always make sure to speak up if you don't think something is right and make sure you stick to your intuitions. They are your baby and even though you aren't home with them, you are the parent. This experience makes coming the home day so much better.
How are the girls doing now that you've brought them home from hospital?
One word, AMAZING! They are not 13 months old, or 10 months corrected. We have started childcare a month ago so now navigating that and all the illness that comes with it. Since going home, they have thrived. Hitting all their milestones and having no developmental issues from being premature. They are so happy and are just starting to play with each other more and more. They keep us on our toes, but they make us such proud parents.
MAKE A DONATION TO SUPPORT FAMILIES JUST LIKE THEIRS